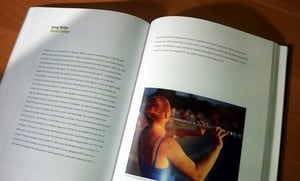 €

20.00
A limited edition book (only 300 copies) with numerous photographs presented in the ninth edition of Landscape Stories Online Magazine.
Check the works here: Adolescence @ LS Magazine
---
Shipping prices:
15€ for 1 book,
25€ up to 3 books.

If you need more than 3 books
please apply via email
---
NOTE: this book entry is available for the following countries in Americas, Africa, Asia:
AFRICA:
South Africa (Bophuthaswana, Ciskei, Transkei, Venda), Angola (Cabinda), Ascension, Benin Republic, Botswana, Burkina Faso, Burundi, Cameroon, Cape Verde, Central African Republic, Chad, Comoros (Anjouan, Mayotte, Moheli) , Congo (Brazzaville), Democratic Republic of Congo (former Zaire), Cote d'Ivoire, Eritrea, Ethiopia, Gabon, Gambia, Ghana, Djibouti, Guinea, Guinea Bissau, Equatorial Guinea (Bioko, Mbini), Kenya, Lesotho, Liberia, Madagascar (Nosy-Be, St. Mary, Kerguelon), Malawi, Mali, Mauritania (Lagouèra), Mauritius (Rodriguez), Mozambique, Namibia, Niger, Nigeria, Reunion, Rwanda, St. Helena, St. Thomas and Principe, Senegal, Seychelles, Sierra Leone, Somalia, Sudan, Swaziland (Ngwane), Tanzania (Zanzibar), Togo, Tristan de Cunha, Uganda, Zambia, Zimbabwe.
AMERICAS:
Antigua and Barbuda, Netherlands Antilles (Bonaire, Curacao, Saba, S. Eustachio, S. Martino), Argentina (South Orkney, Tierra del Fuego), Aruba, Bahamas, Barbados, Belize, Bermuda, Bolivia, Brazil, Canada (Newfoundland and Labrador ), Cayman, Chile (Is. Easter), Colombia, Costa Rica, Cuba, Dominique, Dominican, El Salvador, Ecuador (Galapagos), Falkland (Malvinas), South Georgia, Jamaica, Grenada, Greenland, Guadeloupe (Desirade, S . Maria Galante, St. Bartholomew, St. Martin), Guantanamo Bay, Guatemala, Guyana, French Guyana, Haiti, Honduras, Martinique, Mexico, Midway, Montserrat, Nicaragua, Panama, Paraguay, Peru, Puerto Rico, S.Christofer, S . Kittis (Anguilla, Novis), S.Pierre and Miquelon, St. Lucia, St. Vincent (Grenadines), USA (Alaska, Aleutian Islands, Hawaii), Suriname, Trinidad and Tobago, Turques and Caicos, Uruguay, Venezuela, the British Virgin (Tortola), Virgin USA.
ASIA:
Afghanistan, Saudi Arabia, Armenia, Azerbaijan, Bahrain, Bangladesh, Bhutan, Brunei Darussalam, Cambodia (Kampuchea), China (Tibet, Hong Kong, Macao), South Korea, North Korea, United Arab Emirates (Abu Dhabi, Ajman, Dubai, Fujairah, Ras al Khaimah, Sherjah, Umm al Qaiwain), Philippines, Georgia, Japan (Ryukyu), India (Andaman, Lakshadweep, Nicobar, Sikkim), Indonesia (Indonesian Borneo, Celebes, Java, Irian Occ, Moluccas, Sumatra, Timor Indon.), Iran, Iraq, Kazakhstan, Kyrgyzstan, Kuwait, Laos, Malaysia (Sabah, Sarawak, Labuan), Maldives, Mongolia, Myanmar (Burma), Nepal, Oman, Pakistan, Qatar, Singapore, Sri Lanka, Tajikistan, Thailand, Taiwan (Formosa), East Timor, Turkmenistan, Uzbekistan, Vietnam, Yemen (Socotra).
---
Adolescence Book INFO:
Size:17x24cm
Cover: Hardcover
Pages: 112
Images: 49 images by 28 photographers
Text by: Fabio Severo, Camilla Boemio, Landscape Stores
ISBN: 9788890765070
Print: Offset, printed in Italy